Artist rendering of new paint scheme displaying the  Arizona State Flag as team colors created in early 2004 to generate interest in the new project and create a professional look for the team.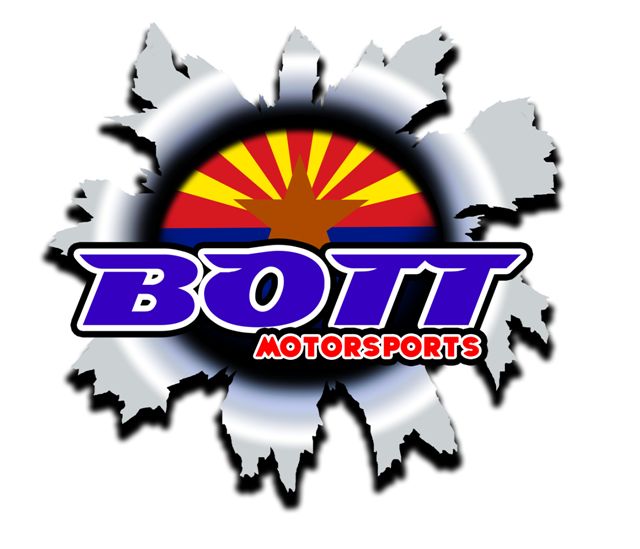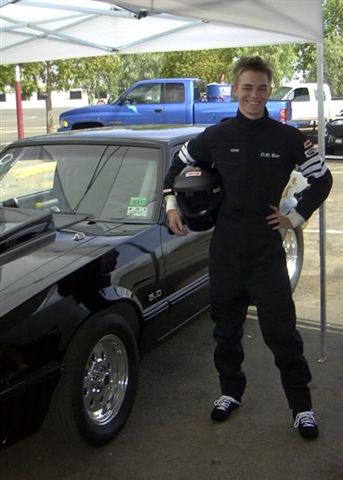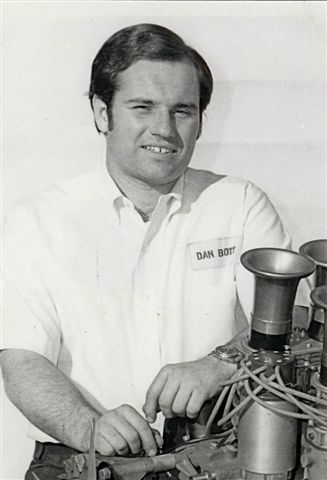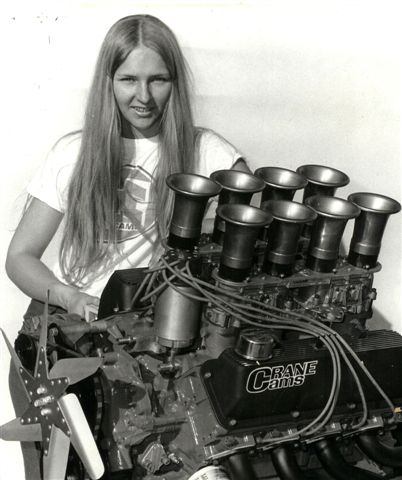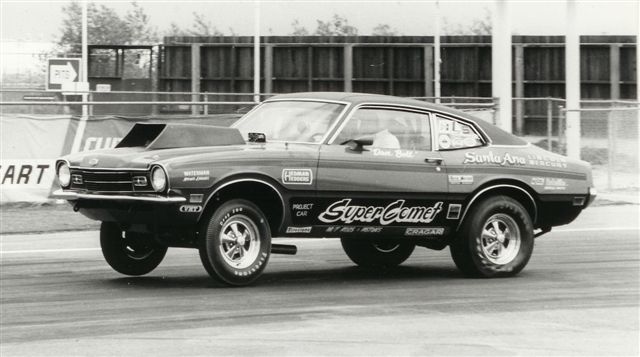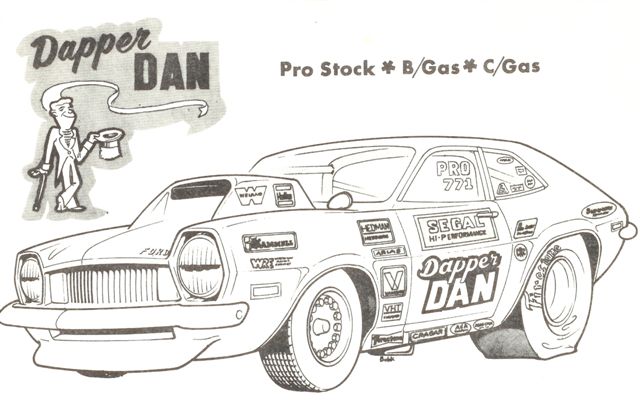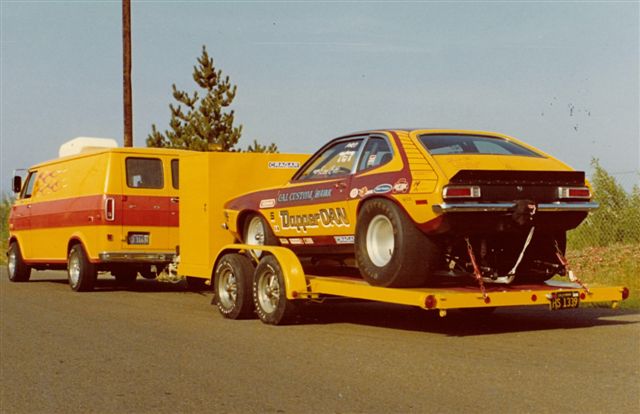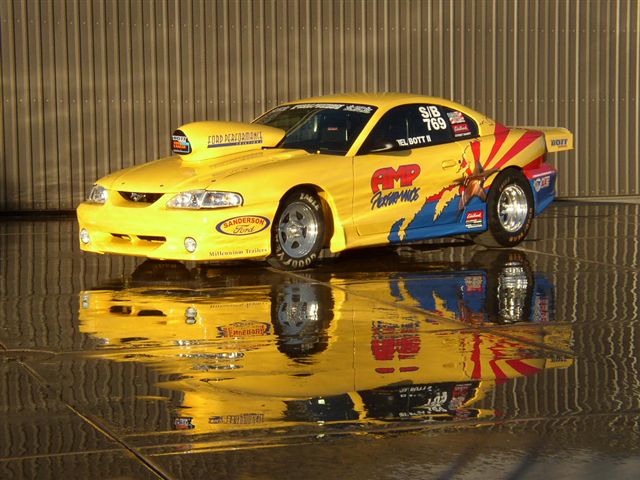 July 2002 D.R. Bott II made first outing in what will be his practice car to get his NHRA license in January 2004 at Frank Hawleys Drag Racing School in Pomona, Ca. He made over 75 passes with the "black car" before he transitioned into the new Bandit car.

Dan Bott Sr. circa 1971 at age 22 with his Boss 302 Race Motor that he ran in a 1971 Comet competing in NHRA D/Modified Production Heads Up Racing Class

Family Affair....It's About Father and Son

The Bott Motorsports story is first and foremost a  race venture that is a combination of a once in a lifetime period to engage in an exciting father/son effort and an opportunity for the old man to relive an exciting period of his life again through and with his son Daniel (D.R.) Bott II. Unlike many other race families that never stopped racing. For D.R., he only heard the stories and saw the pictures of the racing and auto adventures of Dan senior. However once D.R. became old enough to drive and understand the relationship people can develop with there cars he soon found what the big deal was all about. In June of 2005 D.R. Graduated from Arizona State University with honors with his Major in Marketing and is now a Financial Advisor with one of the larger investment firms on Wall Street.

The Bott Motorsports story is about a Ford Family Heritage that dates back to the 1940's. About growing up in the Southern California's Drag Racing scene during the 1960's and 70's. What is the same and what is different about sportsman heads up drag racing of  today from thirty years ago and finally what are the plans and the goals of Bott Motorsports for 2005 and beyond.

Ford Heritage Lives On With Drag Racing

The story begins with Frank Bott who retired from Ford Motor Company in 1975 after 30 years in Plant Engineering, he first started at Ford in Dearborn and then after World War II (1946) Frank, (wife) Anne and (first son) Jerry Bott moved to Southern California. Frank worked at a Lincoln Mercury plant in Los Angeles and later worked on the design and development of a new assembly plant in Los Angeles. Dan Bott Sr. (second son) was born in Southern California in 1948 which is today the undisputed beginning of drag racing. Dan was exposed to cars everyday but it wasn't until 1964 while living in South Gate, California and riding his bicycle about two blocks from his house he saw a long sleek yellow race car in the front driveway of a neighbors home on an early Sunday morning. As they started the engine in this bigger than life machine Dan knew right then and there that this was the most exciting thing he had ever seen and he somehow would become involved with this sport. . Dan Sr. age 15 at the time could not stop asking questions, it wasn't until a while later did he find out how lucking he was to have such a machine so close to his home. The name on the side of the car said, Greer, Black and Prudomme. That's right, it was none other than Don Prudomme as the driver of the car sitting in the driveway of legendary engine builder Keith Black who's shop was in South Gate, California. So how does a young kid just turning 16, in high school get to be involved with such excitement. Dan having an interest in photography was the high school photographer at South Gate High and shot the football games on Friday night. Having such great cameras over the weekend to play with, Dan made up a press pass in print shop and started going to Lions' Drag Strip in Wilmington, California. Within a matter of a couple of months the track operator C.J. Pappy Hart asked if Dan would like to be the track photographer. Imagine, getting paid to go to the drags and being right up close to the action. From there Dan had stories in Hot Rod, Car Craft, Rod & Custom, Drag News and many other publications before he finished high school. In his first year of college he landed a job at Popular Hot Rodding as the associate editor during 1968 and  69 were he was able to drive many of the popular muscle cars of that era. The most exciting by far were the 428 and 429 Ford Super Cobra Jets. Yeah the 454 Chevy's were cool and the hemi Cuda was quick, but there was really something about taking a 69 Cougar with a 428 CJ, Doug's Headers, Cragar Wheels and blowing off the doors of a Chevy or Mopar. After all growing up in a Ford family and owning nothing but Fords really set the tone for what was to come. Daily drivers for Dan included in progression a 55 Mercury, 61 Ford Starliner with a police interceptor 390 and a Borg warner T-10 four speed, a 62 Galaxie 500 with a 406 swapped engine and then a 64 Ford Galaxie 500 with a 427 low riser. The last three cars all  had Cragar wheels and Doug's Headers, these guys knew how to get there products into the magazine.

The First Ford Powered Race Car lead to Many

The first Ford powered race car came as a result of a Project Car for a New York based magazine, it was a 1970 Mercury Cyclone provided by Santa Ana Lincoln Mercury. The dealership was just a couple of miles away from Orange County Raceway. That six month project netted a new track record and matched the NHRA national record for F/SA. Right after that project Mercury had just launched a clone of the Maverick called the Comet with a 302 Windsor head motor. Ford Racing Parts Division supplied a Boss 302 to make a swap as a street/strip project for the magazine and later supplied another motor,  a pair of Autolite inline four barrel carburetors along with a list of other goodies to go NHRA Modified Production racing during the 1971-72 season.

Going Pro Stock Racing

Dan having finished college at Cal-State Fullerton in January of 1972, landed a job at Ford Customer Service Division. Starting a new job at Ford forced him to turn the Comet back into the Lincoln Mercury store, no conflicts of interest allowed between factory and dealer. The new NHRA Pro Stock class had Dan's name written all over it. So a new job, having many good aftermarket manufacture relationships through his magazine contacts and a few years of racing experience lead Dan to believe he was ready to go Pro Stock racing.

A Little Pro Stock History

The Pro Stock was really a spin-off of super stock and perhaps in some way some of the AFX factory group of racers. The racers from FX racing that didn't move onto funny car racing wanted something more than what super stock had to offer. Pro Stock was really a more no holds class for frustrated super stock racers. The changes came fast and frequent. The cars built in 1972-73 were very much like the Street Bandit or Hot Street cars of all Ford racing of today. The main difference in the engine area are single carb to the duel carbs of that era. As for the cars, many similarities of then and now except they could run much less weight. About 2400 lbs then to about 2800 lbs with equivalent engine sizes. Most engine sizes then were 351 and no automatics. To get the weight down the bodies of the car would be acid dipped to etch the metal panels thinner then the inside of the panels would get shot with foam to add back the strength. There was no chassis certification during those early days, at least for cars running in the mid to low  9's and 150 mph plus.

New Career Forces Big Decision

Building the car was a challenge but well worth the effort and testing the car was even more fun and exciting. Racing competitively with all of the new changes evolving rapidly called for a whole new financial commitment that required a life decision. Could someone who had an opportunity to build a business career do so in the mid twenties and still go Pro Stock racing? Perhaps, but we will never know because the decision to cut bait and build the business career was the path. There were many times the question quickly crossed the mind of what could have been, however today that question is purely an academic one. Thanks to the all Ford heads up racing of today an opportunity exists to pick up were things were left off some thirty years ago.

Pictured here (1971) at age 21 is the future Mrs. Bott, she was the first and only full time crew member in the early 70's.for the various race car projects. Today she is the mother of D.R. Bott II and wife of Dan Bott Sr.

1970 Mercury Cyclone was Dan Bott Sr. first Ford powered race car. The heavy Merc ran in NHRA F/SA and set new track record at Orange County Raceway and matched the NHRA national record at the time. Car ran low 12's at over 110 mph.

During 1971 and 72 the Ford powered race project was a new 71 Comet with a Boss 302 engine built by Sid Waterman Racing Engines. Car ran in D and E Modified Production with ET's in low 11's and high 10's with speeds of high 120's to low 130's. Similar to the Street Bandit in FFW today, except we could run two four barrel carbs. Ran a Borg Warner steel case super T-10 with Doug Nash crash box gears, 5.13 rear gears, 28x10.5 inch tire and buzzed it 8500rpm's through the lights. No rev limiters, only a tach and power shifted each gear. It was a blast.

This was the original artwork to envision what the new Pinto Pro Stock car would look like, it was also used to solicit sponsors and generate some media buzz before and during construction. During that era many drag car teams would adopt a nickname for the driver, IE: Dyno Don, California Flash etc. So it was Dapper Dan for our new car.

The finished product early 1973, car ran 9.53 ET at 150.25 MPH with a stroked Boss 302 to a 331 inch, a Super T-10 Doug Nash modified four speed. Glidden and Nicholson were running 9.40's to the 9.50's during that same period but were dropping there ET's quickly from that point forward. The Lenco came later that year along with a few inch's set back of the motor. In 1974 low 9's and then into the 8's was the hot ticket. During that period changes were coming quickly. A little to fast for a young junior executive trying to make it in the business world. In 1974 the car was parked and in 1975 sold. That ended the drag racing for the next 27 years.

The finished look of the new Street Bandit/Hot Street all motor heads up Mustang. This photo was taken early June 2004   during a photo shoot for Muscle Mustangs and Fast Fords. The car made its first full pass the following day at SpeedWorld Motorplex in Wittman, Arizona (west of Phoenix) The next Era of Bott Motorsports is firmly underway. Stay tuned to the latest information page to keep track of results and the photo gallery for continuing photo updates.

Unfinished Business Launches FFW Bandit Car

The Fun Ford Weekend and possibly some races at NMRA will be the new staging grounds for a re-entry to drag racing. It is the vast similarities of this class to that of Pro Stock some thirty years ago that draws the interest to compete in Bandit.  The article written by Michael Galimi for Muscle Mustangs and Fast Fords January 2005 issue best tells the story of why and what Bott Motorsports has created in this new project.
To see the story click here.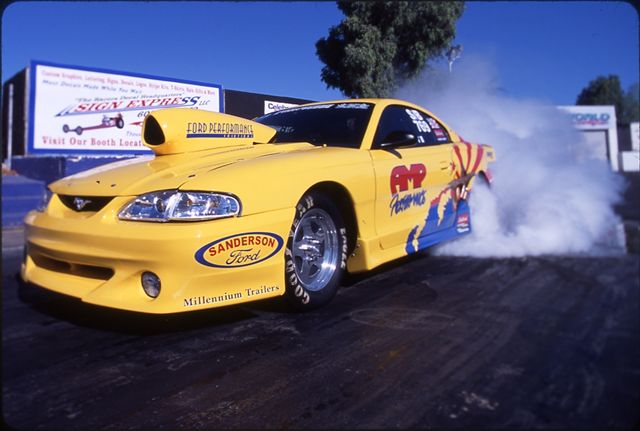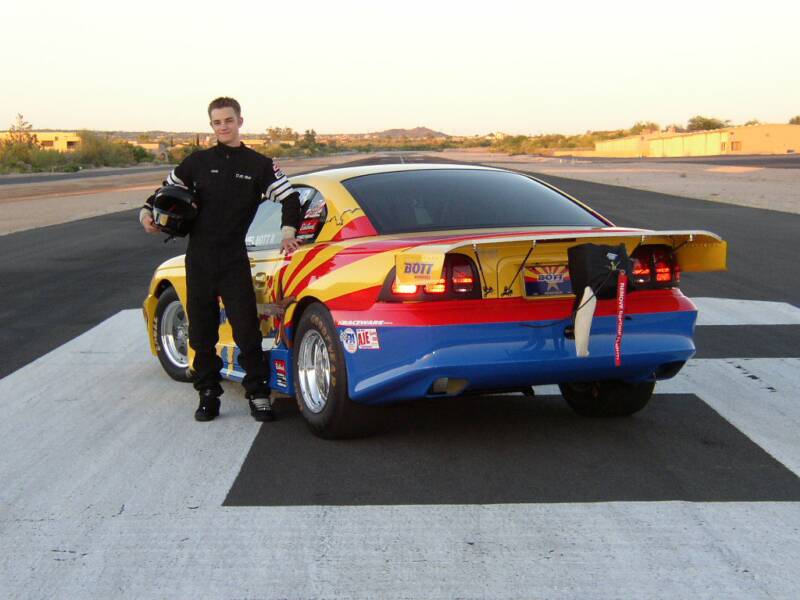 Here is D.R. two years later after his first pass in the practice car, this shot was taken June 2004 during the photo shoot for Muscle Mustangs and Fast Fords feature story. The first full pass was made with the car the following day. Everything went very smooth and the driver did great with over 100 runs under his belt at that point and now ready to start his progression of training and seat time in his new FFW Street Bandit car.  By the end of 2004 he had put about 30 passes on the new car and by the end of 2005 another 60 runs with a best elapsed time of .8.73 with a top speed of 157.20. That is a long way from is first run of 12.59 in July of 2002 with the black practice car.